Service & Warranty Information
Before getting started, please review our Warranty Procedure.
To submit a warranty claim, please have your product information (serial number, purchased date, etc.) handy and complete our Warranty Claim Form.
Remember to call the Service & Warranty Department at (308) 995-4495 before servicing or repairing equipment. Please have a customer name, equipment serial number, hours used and a description of the problem ready before calling.
How to read your serial number: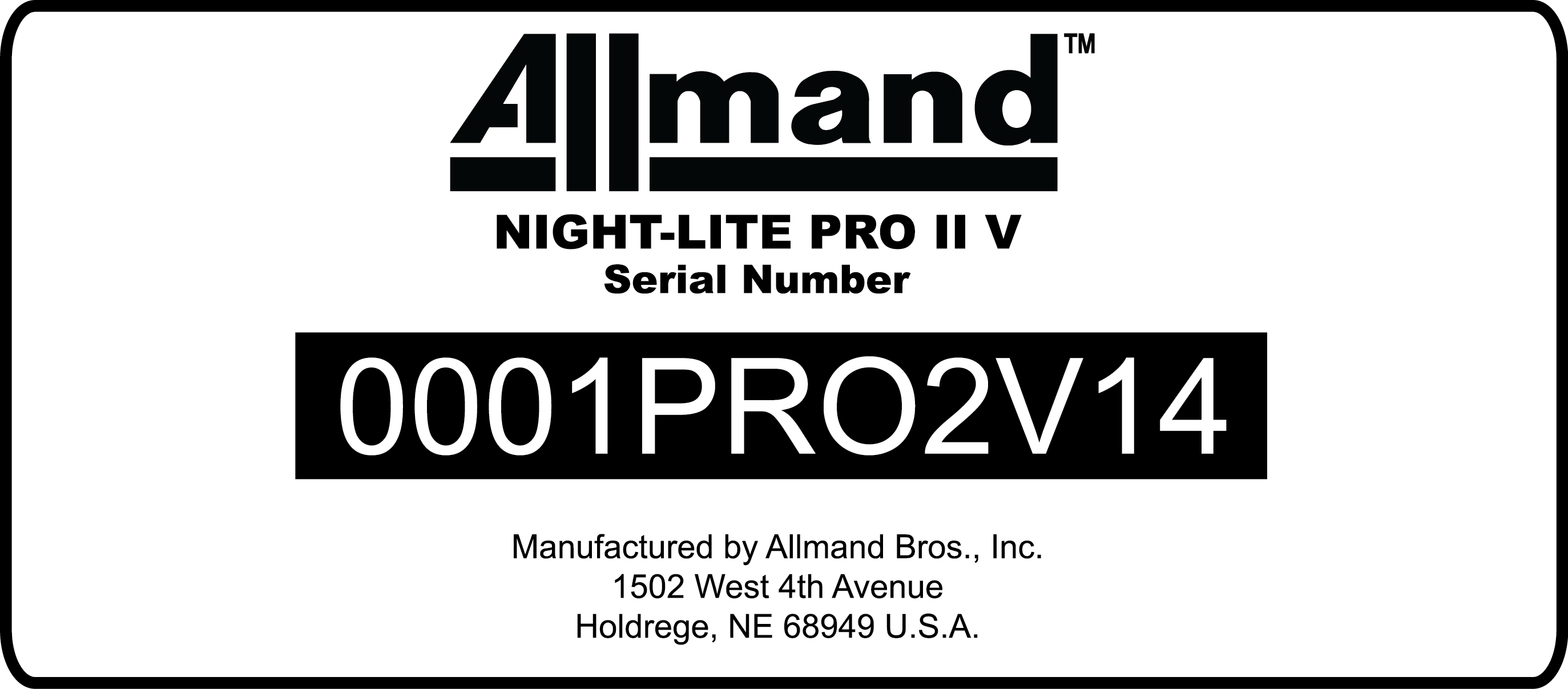 0001 indicates numerical order of which the machine was built.
PRO2V indicates the product model. In this case, it is a Night-Lite PRO II Vertical light tower. Examples include MXL (Maxi-Lite) | TLB425 | MXH (Maxi-Heat) | AB (Eclipse Arrowboard) | PRO (Night-Lite PRO)
14 indicates the year your machine was manufactured. 
*Please be prepared to give a parts representative your product serial number in order to better assist you.
---
Allmand Warranty Procedure
---
Warranty FAQs:
When does the warranty period start for my machine?
The warranty period starts from the date of invoice to the original purchaser.
What are the warranty procedures and where can I get a warranty claim form?
The procedures and warranty claim can be found on our website under "Support".
Is everything covered under the Allmand warranty policy?
No. Allmand's warranty policy covers parts manufactured by Allmand. Other components (e.g. engines, generators, etc.) are covered under their respective manufactures' warranty policy.
---
Allmand Service Standards
NOTE: Allmand Bros, Inc. as well as Briggs & Stratton Corporation has no relationship with the company formerly known as MMD. Allmand will do our best to help with product support and will provide service parts to any active models within the last seven years.
Engine manufacturers may be the main point of support for some engine related requests. You can contact the Allmand service department and we will direct you to the correct support location.
Parts stock for products distributed by the company formerly known as MMD is limited. Components that are not in stock will be ordered from Japan, with lead times of 8-10 weeks. Airfreight is available to be quoted on a request basis. Thank you for your understanding.