Night-Lite™ Vertical Series
---
Allmand® Introduces Night-Lite™ V Series Rental-Grade Light Tower
---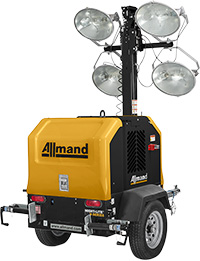 HOLDREGE, Nebraska (August 10, 2017) — Allmand Bros. Inc., a long-time manufacturer of high-performance portable equipment, expands its line of light towers with the Night-Lite™ V Series®. The ROI-driven, vertical mast design is built specifically to provide efficiency, durability and performance. The rental-grade Night-Lite V Series boasts a longer run time and brighter output than competitive units in its class and is strong enough for repeated rentals as well as the rigors of any construction site.
"The Night-Lite V Series design stemmed from customer feedback," said Brian Northway, Allmand product manager. "We rely on input from the field to be able to innovate products and help customers better manage their job sites."
The Allmand-exclusive 1,250-watt metal halide SHO-HD® light system provides users with a higher light output than competitive units in its class — 135,500 lumens per lamp for a total of 542,0000 lumens — and as long as 75 hours of run time. Optional LED fixtures run as long as 155 hours before refueling and produce 38,500 lumens per lamp for a total output of 154,000 lumens.
The V Series also incorporates Allmand's SLS™ Sequenced Lighting System. The system automatically turns on the lights after the engine is started and delays engine shutdown until after the lights are off, preventing the generator from shutting down while under load.
With 52,109 square feet of coverage, the Night-Lite V Series provides enough light to power through projects all day and night. Plus, its 45-gallon fuel tank provides a convenient exterior fuel fill neck for quick refueling, allowing the project to keep moving along.
Deploying the vertical mast is easy with the winch ergonomically placed at about waist height, which is lower than competitive units. The 24-foot 6-inch mast can be raised manually or with an optional electric winch, making it simple for the operator. When raised, the tower can withstand 55 mph wind speeds, allowing use in almost any weather.
The tower deploys from the unit's rear to keep the operator away from the tower cables. Flexible Nycoil™ tubing encases the cables to eliminate tangling and stretching while protecting the mast wiring. A built-in stepping pad at the back of the generator allows for easy fixture adjustment and 359-degree mast rotation from the ground.
A liquid-cooled EPA Certified Tier 4 Final Mitsubishi L3E 6-kilowatt engine or optional EPA Certified Tier 4 Final Kubota D1005 7-kilowatt engine powers the V Series Light Tower. A 110-percent Fluid Containment System protects sensitive environments from inadvertent leaks and spills. Additionally, all major service points, including the engine, are easily accessible behind a lockable, steel clam-shell-style door, allowing for quick maintenance and less downtime.
The compact size of the Night-Lite V Series allows for 20 units to easily fit on a flatbed trailer for efficient transportation with low freight costs. The light towers also take up less space on the rental floor, allowing the rental center to stock and rent more at a time for greater ROI.
Allmand backs its Night-Lite V Series light towers with a two-year or 2,000-hour product and engine Limited Warranty. Complete warranty details are available in the operator's manual or at www.allmand.com.
Media Contact:
Becky Fellows
Office: (414) 256-5138
fellows.rebecca@basco.com
About Allmand Bros. Inc.:
Allmand Bros. Inc., a subsidiary of Briggs & Stratton Corporation, has been delivering compact equipment solutions since 1938. It offers an extensive line of rugged, portable, high-performance products for the construction, mining, rental and oil and gas industries. Its product lineup includes towable light towers, mobile generators, portable air compressors, mobile industrial heaters, portable light stands and solar flashing arrow boards. For more information: 1502 W. 4th Ave., P.O. Box 888, Holdrege, NE 68949; www.allmand.com; 800-562-1373; info@allmand.com.
About Briggs & Stratton Corporation:
Briggs & Stratton Corporation (NYSE: BGG), headquartered in Milwaukee, Wisconsin, is focused on providing power to get work done and make people's lives better. Briggs & Stratton is the world's largest producer of gasoline engines for outdoor power equipment. Its wholly owned subsidiaries include North America's number one marketer of gas pressure washers, and it is a leading designer, manufacturer and marketer of power generation, lawn and garden, turf care and job site products through its Briggs & Stratton®, Simplicity®, Snapper®, Snapper Pro®, Ferris®, Vanguard™, Allmand®, Billy Goat®, Murray®, Branco® and Victa® brands. Briggs & Stratton products are designed, manufactured, marketed and serviced in over 100 countries on six continents. For additional information, please visit www.basco.com and www.briggsandstratton.com.