Allmand Introduces New NIGHT-LITE™ NL5000 Light Tower
---
---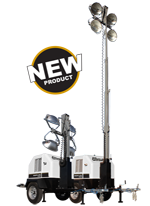 Monday, December 7, 2015
ROI-driven solution built with the durability & performance you demand.
Holdrege, Neb. – Allmand has expanded its current line of diesel light towers with the introduction of the Night-Lite™ NL5000 60Hz light tower. Designed as an ROI-driven solution and built with the durability and safety its customers demand, the NL5000 features a 45 gallon steel fuel tank providing users with approximately 90 hours of runtime, a vertical manual winch tower deployed from the rear of the unit to keep the operator away from the tower cables, exterior operating controls and fuel fill neck provide for quick operation and refueling of the unit, as well as a stepping pad for easy fixture adjustment and mast rotation from the ground. The compact design of the NL5000 maximizes both freight costs and yard storage by being able to fit 18 and 20 units on a 48' and 53' flatbed trailer, respectively.
Featuring the Allmand-exclusive 1250-watt metal halide light system, the NL5000 provides its users with a higher light output than competitive units in its class. All major service points, including the Tier 4 final Kubota 1005 (CARB- and EPA-certified) liquid-cooled diesel engine, are easily accessible with a lockable clam-shell style door. The unit is also equipped with a Genset Protect™ system designed to protect the engine and generator from starting and stopping with AC power and ensures the lighting system is turned off at startup and shutdown.
About Allmand Bros., Inc.
Allmand, a subsidiary of Briggs & Stratton Corporation, is a manufacturer of portable jobsite equipment focused on providing customers with safe, reliable, and high-quality products. Located in Holdrege, Neb., Allmand manufactures towable light towers, mobile industrial heaters, solar flashing arrow boards, and portable light stands for the global construction, mining, oil & gas, and rental markets.