Allmand Employee Chosen for Manufacturing Engineering's 30 Under 30
---
---
Continuous Improvement Engineer was picked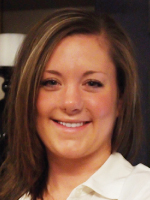 Monday, September 23, 2013
HOLDREGE, Neb.
Manufacturing Engineering 30 Under 30 recognizes individuals within the manufacturing industry under the age of 30 who hold the potential to lead the future of the industry. Afton Hollertz, Continuous Improvement Engineer at Allmand, was picked as one of the 30 Under 30. Afton knew in high school that she was interested in design, whether architectural, drawing, or mechanical. She completed her Associate's of Applied Science degree in Manufacturing Engineering Technology at Southeast Community College Milford (Nebraska). Afton was employed at Store Kraft Manufacturing in Beatrice, Nebraska and gained invaluable experience doing factory audits in Asia, South America, and Europe. "I really connected with the production side of manufacturing through that experience," said Afton.
Returning to her hometown of Holdrege, she joined Allmand as a manufacturing engineer. In the words of Director of Operations, Joe Lawrence, "Afton has proven herself, in a short period, to be a positive influence on our company. She has raised the bar within Allmand with her ability to think outside the box and her drive to understand and improve our processes and products. She is not afraid to dig and understand how things work and create organized plans to implement or improve projects and processes she is working on to higher levels of excellence. She is very thorough in her thinking and implementation of change. Afton has also demonstrated the ability to teach, coach, and involve her co-workers in the process of product changes, which creates unity and high success level for her work. She is never afraid to research to understand best practices for our industry."
As Continuous Improvement Engineer, Afton, along with her team, has overseen the 40,000 square foot addition to the Allmand facility, streamlined material flow through the manufacturing process, and is in the process of gathering data that will lead to better understanding of operational efficiency.
"Afton was instrumental in the completion of a manufacturing flow process that reduced manufactured component shortages and eliminated inefficiencies within production. She was able to organize and implement this process with all of our production teams very successfully, enabling our production leaders to recognize their true manufacturing capabilities through studies of our equipment and measuring individual equipment performance and efficiency. Afton was the driving force behind the addition to our factory, which included moving our entire fabrication and welding operations and newly purchased equipment into the new addition without shutting down our production lines. She has been a strong mind in creating an efficiency layout which reduced waste in our fabrication and welding operations," said Lawrence.