Order Allmand Parts
Allmand Service Standards
NOTE: Allmand Bros, Inc. as well as Briggs & Stratton Corporation has no relationship with the company formerly known as MMD. Allmand will do our best to help with product support and will provide service parts to any active models within the last seven years.
Engine manufacturers may be the main point of support for some engine related requests. You can contact the Allmand service department and we will direct you to the correct support location.
Parts stock for products distributed by the company formerly known as MMD is limited. Components that are not in stock will be ordered from Japan, with lead times of 8-10 weeks. Airfreight is available to be quoted on a request basis. Thank you for your understanding.
---
First Time Business Account Request
Please submit this first time user form so we can create an Allmand account for you. NOTE: You may be directed to an established dealer in your area.
STEP 1

Contact Information

STEP 2

Account Information
* Indicates a required field
STEP 2

Account Information
* Indicates a required field
Thank you for registering for an Allmand account. Your information has been sent to one of our customer service representatives who will be in touch with you shortly.
---
How to find your serial number: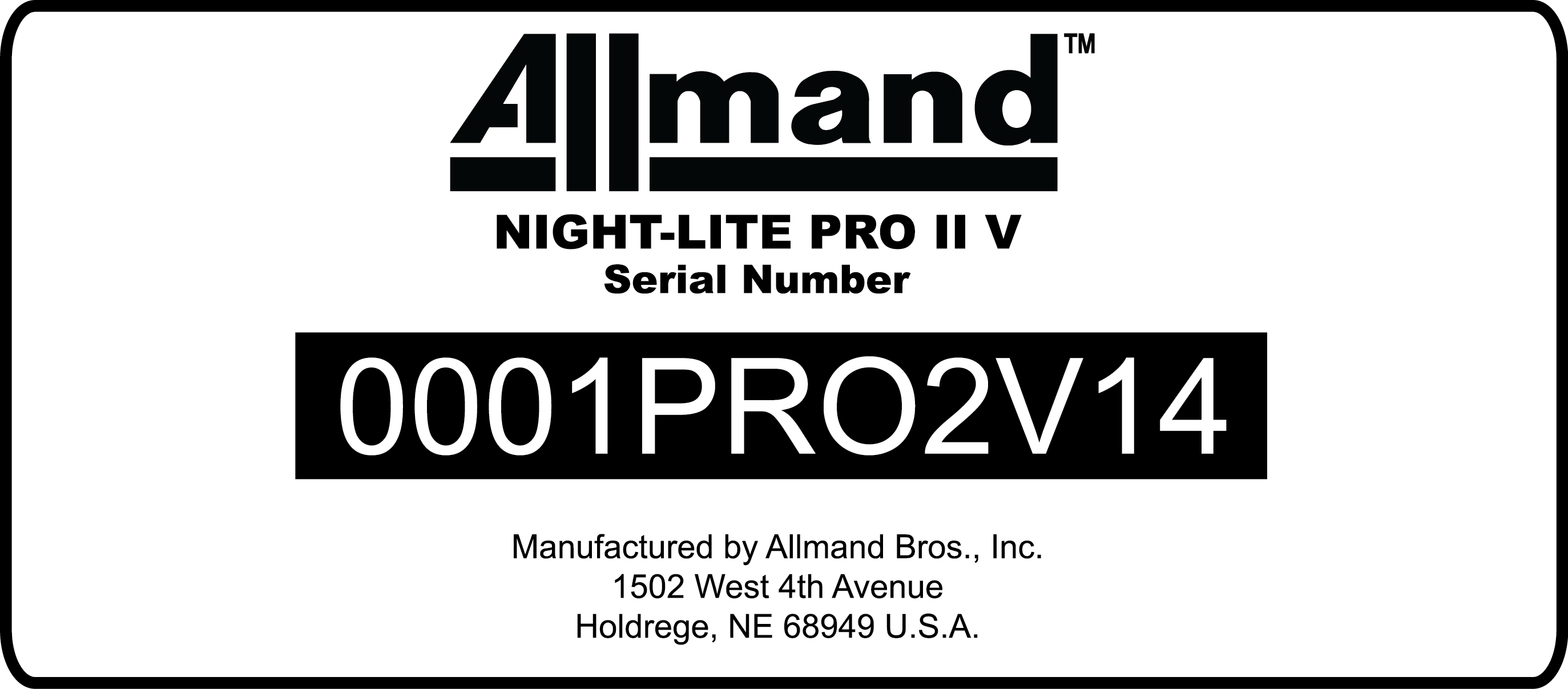 0001 indicates numerical order of which the machine was built.
PRO2V indicates the product model. In this case, it is a Night-Lite PRO II Vertical light tower. Examples include MXL (Maxi-Lite) | TLB425 | MXH (Maxi-Heat) | AB (Eclipse Arrowboard) | PRO (Night-Lite PRO)
14 indicates the year your machine was manufactured. 
*Please be prepared to give a parts representative your product serial number in order to better assist you.
Important Update:
Users of Windows XP SP2 computers, which Microsoft stopped supporting in July 2010, will not be able to use our parts ordering system, Documoto, after the upgrade. We apologize for any inconvenience.
Product Manuals
If you need to consult a parts manual for an Allmand product which is not on Allmand Direct, you can access additional Allmand product parts manuals in PDF format here: Product Manuals.
Sales Tax Liability
Allmand is required by law to collect sales tax in US states in which we have a presence, unless the purchaser is tax exempt and provides a copy of their state-issued tax exempt resale certificate. In states where Allmand is NOT required to collect sales tax (except those that have no state sales tax), a tax liability statement indicating that the non-exempt purchaser is responsible for all state or local taxes must be on file with Allmand prior to processing and shipping your initial order. Click here for Tax Liability Letter if needed (PDF) Fax copies of your exempt resale certificate or liability letter to 308-995-4883, Attn: Parts Department.
Allmand Parts Policy (PDF copy)
Privacy Statement
By requesting a log-in, you are providing personal information to Allmand. This allows us to furnish you with the materials described. We will not share your personal information with any organization not affiliated with Allmand. We may also use your information to determine your needs and interest in our products, or to occasionally notify you about Allmand products or services. By submitting this request, you agree to these uses of your personal information. If you do not agree to these uses, please DO NOT submit this request.